Ashland All-Class Reunion: Postponed Until 2022
---
January 2021 Update:
In order to plan the BEST All-Class reunion, the committee has made the difficult decision to hold off the event until the 3rd weekend of July 2022. There are still too many unknowns for this upcoming summer such as the timing of vaccines for the general population along with not knowing when restrictions on large gatherings and travel will be lifted. A lot of planning and volunteer participation is required for an event this large and the committee wants to make sure it is as successful and safe as possible for everyone. Thank you for your understanding and we will all be ready to party in 2022!!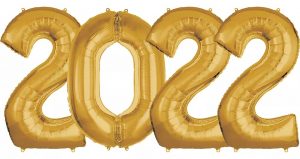 ---
May 21st, 2020 Update:
Statement From Ashland Chamber of Commerce: After a lengthy discussion with the Ashland County Health Department & the City of Ashland, the Ashland Area Chamber of Commerce has decided to cancel the 4th of July Parade and the Ashland Bay Days Festival. In addition, the Ashland High School Reunion committee decided to postpone the All-School reunion to 2021. The COVID 19 pandemic has put limitations on large groups gathering which will hinder our outdoor festivals in June and July. Other factors include consumer fear to gather in large groups, marketing expenses that cannot be recovered if the event is eventually cancelled, and the ability to recruit volunteers because of safety concerns. The safety of our sponsors, spectators, volunteers, and staff is priority and we feel this is the best outcome for 4th of July parade and the Ashland Bay Days Festival. Good news!! Thanks to an anonymous donor, the 4th of July fireworks will go on!! We will also be looking at the fire run and hope to have a car run attached to the fire run for those who are interested in participating. This would take place before the fireworks at the usual time. The Chamber is considering the possibility of a Labor Day Parade this year. We are as heartbroken about these events as you folks are, but we need to make sure we are able to coordinate safe events. Thank you for your understanding.
---
February 13th, 2020 Update:
Ordering of the 2020 Reunion T-Shirts is now available on the Ashland Historical Society Museum On-line Gift Shop (www.ashlandwihistory.com). All T-Shirts are a pre-order and will have to be picked-up at the Ashland Museum on Thursday, July 16, 2020 from 10 AM to 6 PM or on Friday, July 17, 2020 from 10 AM to 3 PM. (Orders cannot be mailed). T-Shirt orders will have to be placed by Saturday, June 20, 2020. T-Shirts come in two colors for Ashland High School (gray and purple) and one color for DePadua High School (red). Sizes are from small to size 5X and all sizes are $15.00.

All proceeds from the t-shirts go directly to support the Ashland Historical Society Museum.
T-Shirt logo designed by Kasey Jaskowiak.
---
February 12th, 2020 Update:
ATTENTION: The fundraiser to support the reunion events, the 50/50 Raffle, is available! Please visit the ==> 50/50 Raffle <== page for all the details along with the list of locations to buy tickets. There's also an online option as well.
---
February 3rd, 2020 Update:
Congrats to Kasey Jaskowiak for designing an awesome t-shirt for our first ever Ashland All-Class Reunion. We decided to keep things simple, easy and affordable so we are only having 2 choices. The Ashland Historical Museum's online store will be handling the orders. The t-shirt sales will be a fundraiser for the museum and they will be keeping 100% of the profits. You will be placing your order and paying for your order and then picking up your shirts either at the Bohemian Hall on Thursday July 16 or anytime during the reunion at the Ashland Chamber tent at Bay Days. Once the online store has our tees available, we will let everyone know. Can't wait to see everyone!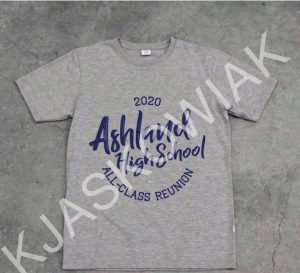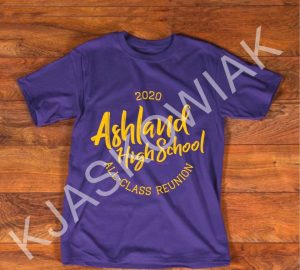 ---
January 28th, 2020 Update:
Happy New Year! The committee had a meeting today and so many details are just about ready to be shared. Please check back soon and watch the Facebook group for more details. The weekend is going to be packed with so many activities – something for everyone! Many individual classes are planning events as well so make sure to check your class page as well (if something is planned but not listed, please email mary@maryjoy.com). Tours, picnics, kid-friendly events, golf, softball, basketball, volleyball, and even a wiffle ball tournament are in the works. And of course, there's the BIG street dance for Saturday night!
---
August 20th, 2019 Update:
Plans for the reunion are taking shape and the website is almost ready to launch. We are creating a FB page for all class contacts to get their input and find out what individual classes have planned. Class contacts will be invited to join this page shortly. We are working hard to have a lot of things going on that weekend so folks have plenty to do.  Coed sand volleyball, 3 on 3 basketball and softball are in the works. Golf, 5k and 10k races are going to happen as well. Tours of the old high school site (middle school) and present high school and new field house are being planned too! Mural tours on the trolley, a pancake feed, music at the Band Shell, Bay Days and much more…… The weekend will wrap up on Saturday night (July 18th, 2020) with the street dance featuring local talent.
One last thing…… Help us design the first Ashland All-Class Reunion t-shirt! Deadline for your entry is October 1st, 2019. Win bragging rights and a free t-shirt for your help. Entries can be submitted to adnerbe@yahoo.com. One color artwork, please!
We are so excited to see everyone!!! 💜💛
---
May 23rd, 2019 Update:
Just a heads up…
Classes are starting to secure places to hold their own gatherings on either Thurs or Fri nights of the All-Class Reunion weekend. Remember…each class can decide whether or not they will hold their own gathering. Classes can combine with other classes as well and meet up at the same places. There are plenty of parks and bars to use. Some classes are even going to meet at local classmates homes. Once the website is up and running, we will have a list of where and when each class is meeting. You might not like your class and want to hang with others 🤷🏼‍♀️😂